ALUMINIUM CURTAIN WALLS
Please find a small selection of the most commonly used profile brands below. There are several options available for each brand and type, depending on your project and specific requirements. We are happy to help or offer assistance with choosing the right option.
MC-WALL
Description:
Curtain wall system for traditional and semi-structural walls with thermal barriers.
A fast construction for straight facade elements. Light faceted ("formed") curtain walls can be constructed with screw connections to the mullions. This unity can be finished on the outside with various decorative strips.
In addition to the traditional facades with horizontal and vertical protruding decorative strips, this series can also be applied to create a semi-structural facade where the outer part of the facade shows only vertically protruding roof covers.
Post width: 55 mm.
Posts and mullions of different depths for recessing.
Fillings:  carried out with extruded EDPM rubber and coextruded terminal strips.
Glazing: 24 to 33 mm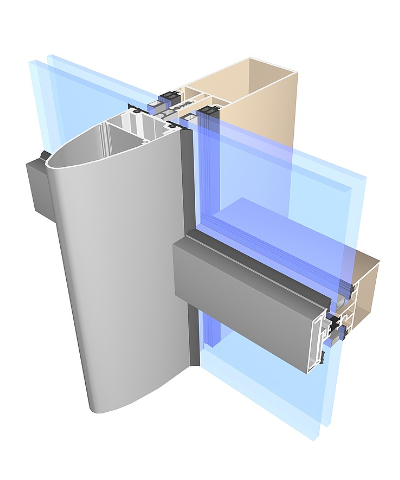 .
.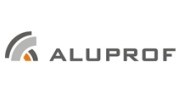 Aluprof is one of the larger European fabricators of architectural aluminium products and system for both commercial and individual construction trade and industry. Their extensive product portfolio consists of entrances, glass wall systems, and curtain wall systems as well as rolling shutters and garage doors.
MB-SR50 profile
Description:
The rich range of profiles enables architects, designers and engineers to develop their most daring designs with aluminium and glass constructions. The system is meant to build and implement light curtain walls, hanging or fitted, as well as roofs, roof windows and other constructions. The shape of mullions and transoms creates the opportunity to build stylish facades with very narrow visible lines that offer durability and stability at the same time. Moreover, the outer edges of these profiles are rounded, which results in a so-called soft line effect.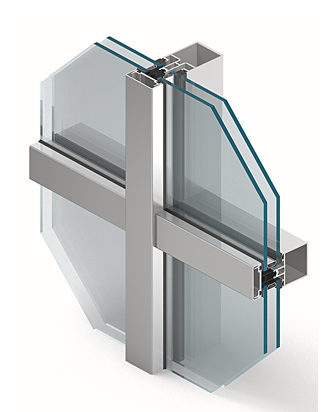 MB-SR50N EFEKT profile 
Description:
The system is used to build light curtain facades from hanging or fitted type, as well as roofs, roof windows and other spacious constructions. The system is based on the modern and valued wall curtain system MB-SR50N. This system offers a variety of mullions and transoms, which can be used for the inside of the façade in order to incorporate these with the building. It enables the system to be used with other designs based on the wide range of Aluprof SA.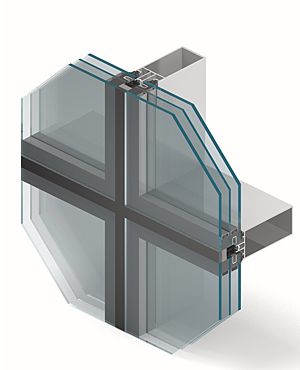 Kratos:
Description
Kratos is a 52 mm capped high-rise system and available in a variety of mullion depths. This results in a flexible design when combined with one of four different options for thermal break and the large amount of face caps.
Kratos combines excellent performance and simple installation and is able to meet every single requirement. Kratos is compatible with the entire range of Blyweert aluminium window- and door systems. Kratos is designed and developed by Blyweert engineers and is supplied to competent facade builders.