FIRE RATED SYSTEMS
Please find our selection of fire rated systems below, suited for internal as external windows, doors and walls. We are happy to advise or help with making a choice.
.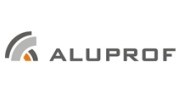 Aluprof is one of the largest European manufacturers of architectural aluminium products and systems for both commercial and individual construction industry. The extensive product portfolio includes entrances, frame systems, window and curtain wall systems along with rolling shutters and garage doors.
MB-78EI / MB-78EI DPA  /  MB-118EI
Description:
The fire rated system MB 78EI is characterized by its high density and fire rating properties. It meets the increasingly stringent requirements of the Polish and European standards concerning construction zones around safe evacuation for people and goods in a burning building. The system is designed to produce internal and external fire retarding walls with single or double doors with a fire resistance class of EI15, EI30, EI45 or EI60, according to standards PN-B-02851-1: 1997 and PN-EN 13501-2: 2005. The system is highly compatible with the standard window- and door systems MB-45 MB-60 and MB-70 of ALUPROF SA (for instance: common profiles, details, fittings, machining processes).
The construction of the MB-78 EI system is based on thermally insulated aluminium profiles. The construction depth of the profiles is 78 mm. By utilizing specially profiled thermal breaks with a 34 mm width, the profiles are characterized by a low U-value. Glazing can be used with all types of fire-resistant glazing sets (filling thickness of 8 to 49 mm). For this system, smoke-proof constructions in several versions are also available. Tests that have been carried out in the Institute for Building Technology ITB in Warsaw, have demonstrated that the products made with this system provide an excellent acoustic insulation (up to 40 dB).
The MB-78 EI system passed the test at the Institute for Building Technology in Warsaw and got the Technical Approval of the Institute no. AT-15-6006 / 2003 and certificate ITB 642 / W / 03.